The Woodland Tulip Gardens – Holland America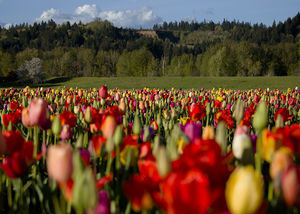 If you are looking for a casual local garden – Holland America in Woodland, WA is the place!
We are always looking to provide our clients with some genuine Pacific Northwest fun!  Who doesn't love to spend an afternoon walking among some gorgeous and vivid tulips!?  Just 15 minutes north of Vancouver, WA in the small town of Woodland is a beautiful tulip garden open every spring to the public.  They elected not to have an official festival this year, and have scaled back their gardens a little.  Honestly, we enjoyed it even more with fewer people and less crowds!  The tulips are amazing, and you can buy them in the store on site as well.  There is a U-Pick garden for people who just can't resist.  At only .50 a stem, they are a great deal!   You can also buy a fresh cut bouquet of flowers for as little at $4, and their potted tulip varieties start at $7.50.   They will be open spring of 2018 until Mother's Day.  Stop by the Woodland Tulip Gardens and see the beautiful blooms before they are gone!
Holland America started in 1980 with the Dobbe family.  They arrived in the Pacific Northwest with tulip bulbs and 3 children.  You can read more about their amazing story here:  Click for more