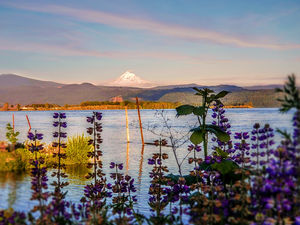 Market Update for Clark County Washington – Summer 2023
Nestled in the picturesque beauty of the Evergreen State, Clark County is proving to be a haven for both homebuyers and sellers alike. If you've been considering a move to this charming corner of the country or are already a resident thinking about making a change, here's a friendly update on what's happening in the local real estate market this summer.
A Competitive Market, but Opportunities Abound
The summer of 2023 has brought a highly competitive real estate market to Clark County, with demand significantly outpacing supply. The region's natural beauty, proximity to Portland, Oregon, and a thriving job market have made it a magnet for newcomers. Luckily as rates climb a little higher, it has cooled the market off enough to make things a little less stressful than in previous years.
While finding your dream home might take some patience and persistence, it's not impossible. With the right real estate agent by your side, you can navigate this competitive market successfully. Moreover, the current situation is encouraging homeowners who have been contemplating selling to list their properties, helping to balance the supply-demand equation.  Right now is a great time to lock in the home you want, with less competition.  Then you may be able to refinance once rates drop.  With the number of people waiting to buy homes, you can be certain that as soon as rates drop again – the buying frenzy will back back to where it was over the past 2 years.  Everybody appreciates a cooler market, even sellers.  There is more than enough interest to satisfy a sellers market still.  But buyers needed this break, and we hope they will take advantage of it.
Diverse Housing Options
Clark County offers a wide range of housing options to cater to various preferences and budgets. Whether you're looking for a cozy suburban home, a chic urban loft, or a sprawling rural estate, you'll find it here. Each neighborhood has its unique charm, from the historic streets of Vancouver to the scenic suburbs of Camas and Washougal.
One notable trend in Clark County's real estate market is the growing interest in sustainable and energy-efficient homes. Many buyers are looking for properties with eco-friendly features such as solar panels, energy-efficient appliances, and sustainable landscaping. Green living is becoming increasingly popular, and Clark County is embracing this trend wholeheartedly.
Tips for Buyers and Sellers
If you're a buyer in the current market, then getting pre-approved for a mortgage is mandatory to help strengthen your offer. This can give you a competitive edge in multiple-offer situations. It's also essential to work closely with a knowledgeable local real estate agent who can provide insights and help you navigate the competitive landscape.  It also offers reassurance to sellers that you are a serious buyer, and not just a nosy neighbor.  We encourage people who view our listings to be pre-approved for similar reasons.
For sellers, it's crucial to price your home competitively and make any necessary improvements to attract buyers. Staging your home and having high-quality photos can make a significant difference in how quickly your property sells.  Clear up clutter and make your home looks as inviting as possible.  Cleanliness equates to actual money, so it's worth the time and efforts.
Clark County, Washington's real estate market is undoubtedly still competitive as we head into fall 2023, but it's a market filled with opportunities that are a little cooler with mortgage rates inching higher. Whether you're looking for your forever home, an investment property, or thinking about selling, the Vancouver, Camas and Washougal local real estate scene offers something for everyone.
As you embark on your real estate journey in Clark County, remember to stay patient, keep an open mind, and lean on the expertise of local real estate professionals. With its natural beauty, strong community spirit, and a housing market that's heating up, Clark County is a fantastic place to call home, now more than ever.
Contact us today to start your search!  Our local agents are here for you throughout your search, and beyond. 🏡