We know that you have the sweetest pets in the world.  We also understand that having to leave your home several times a day, sometimes for long periods of time – makes removing your pet from your home less than ideal.  "My dogs are very sweet, and will probably kiss you!" is something we hear often.  The truth is unfortunately, that having strangers parading through their home all day, unannounced, can cause your pets a lot of additional stress.  They often react much differently than people expect, and sometimes this puts agents and clients in danger. What are some options for pets during showings?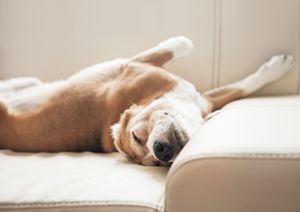 1.  Take your pets with you when you leave.  This is the most popular choice, and although it might seem like a nuisance at times, your pet will be happiest with this option.  If you need to leave your home for extended periods, especially during working hours, this may not be the best option for you.
2.   Kennel your pets during showings.  Trust us, we hate to see this too – but most pets actually feel safe in their kennels.  The best option when doing this is to keep their kennel out of view.  The most common choice we see that works for people is in the garage.  Leave a note just letting the agents know that there are pets kenneled in the garage.  As agents, we always try to keep the pets calm and be respectful of their presence.  We understand that as far as they are concerned, we are intruders into their home.
3.   Cats can be left in a home if they aren't professional escape artists.  We gets notes all the time to be careful not to let the cats out, and as agents, we are very diligent in our efforts to keep track of the cats while we are showing a home.  Besides not letting them out, you may also ask agents to avoid locking pets in closets or out of their litter areas.  This does happen, and if you don't return home for a while – it can be a problem.  Most agents are very careful about this, as this is a very typical request.  We don't want your animals to escape and run away either.  But kenneling cats is also an option.  Have we been attacked by a cat while showing a home?  Yes – yes we have.
4.   Arrange for pets to stay with family for a few days.  Especially during open-house weekends, when you know there will be frequent guests in your home over longer periods of time.  This way, they are somewhere familiar – and nobody has to worry about them escaping or becoming frightened in the process.
Opening your doors to people when you sell your home is inevitable.   Real Estate Agents are required to follow certain protocol to keep your home safe and to follow any special requests put into the listing report.  You can ask your agent to put any special notes you'd like in there about your pets.  We often show homes where it says there will be a pet locked up in the garage, or in a kennel – and when we arrive they rush to greet us at the front door.  This can be very nerve-wracking for both agents and pets, so it's always best to take precautions to prevent any unexpected surprises for your pets during showings.