Beacon Rock State Park – The Columbia River Gorge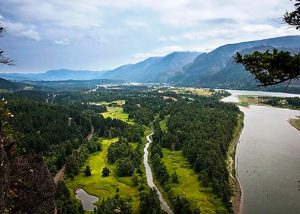 Want to climb an enormous, 57,000 year-old rock with stunning views?  You are in luck!  We have one here in the majestic Columbia River Gorge just outside of Washougal.
We are always looking to provide our clients with some genuine Pacific Northwest fun!  Beacon Rock State Park is located just a few miles east of Washougal in the Columbia River Gorge.  It was a core of a volcanic eruption some 57,000 years ago!  It was once a different shape of course, but ice age waters washed against it and formed the shape we see today.  From the lookout at Cape Horn (another CAN'T miss, right on the way) you can see it easily.  It's one massive rock!  It was purchased by a local geologist in the early 1900's for a dollar (yes, one single dollar).  Henry Biddle's love for the outdoors, and rocks of course, led him to create an engineering marvel in it's time… a trail to the top!  The switchback system is still in place today with many upgrades made since to help with the sometimes heavy daily traffic.
When I was in high school – we could climb to the top and back down in as little as 45 minutes.  This last weekend, it took me quite a bit longer – I won't say how much older I was, but I'm older now.  For the average walker, the hike takes about 90 minutes.  This includes several stops for admiring the views – which you won't want to miss!  This is not a hike I'd recommend for small children.  It's not advanced, but it's rather intense for small legs.  We passed several (exhausted) parents carrying small whining children – so be warned.
The park and camping at Beacon Rock is also wonderful, but first come, first served.  RV parking is also scarce, so if you plan to camp – tent camping is your best bet.  There is a boat dock, day use park, and addition hiking trails for Hamilton Mountain as well.  The Hamilton Mountain hike results in about 2000 feet in elevation gain, so it's also not recommended for beginners.  Bring hydration and snacks!
The Camas, Vancouver and Washougal areas are SO close to these wonderful sights – I think sometimes we take them for granted.  That's what motivated me to write this and make sure anybody moving to this area knows it's here to enjoy!   You can buy a parking pass right from the electronic station at the trail (this is a new addition and VERY welcome).  $10 for a day pass, or $30 for a yearly parks pass that is good for most of Washington State Parks.  It's a great deal, especially if you live in the area.  We have so many wonderful parks and trails to enjoy!
Want to learn more about Beacon Rock State Park?   Click for more